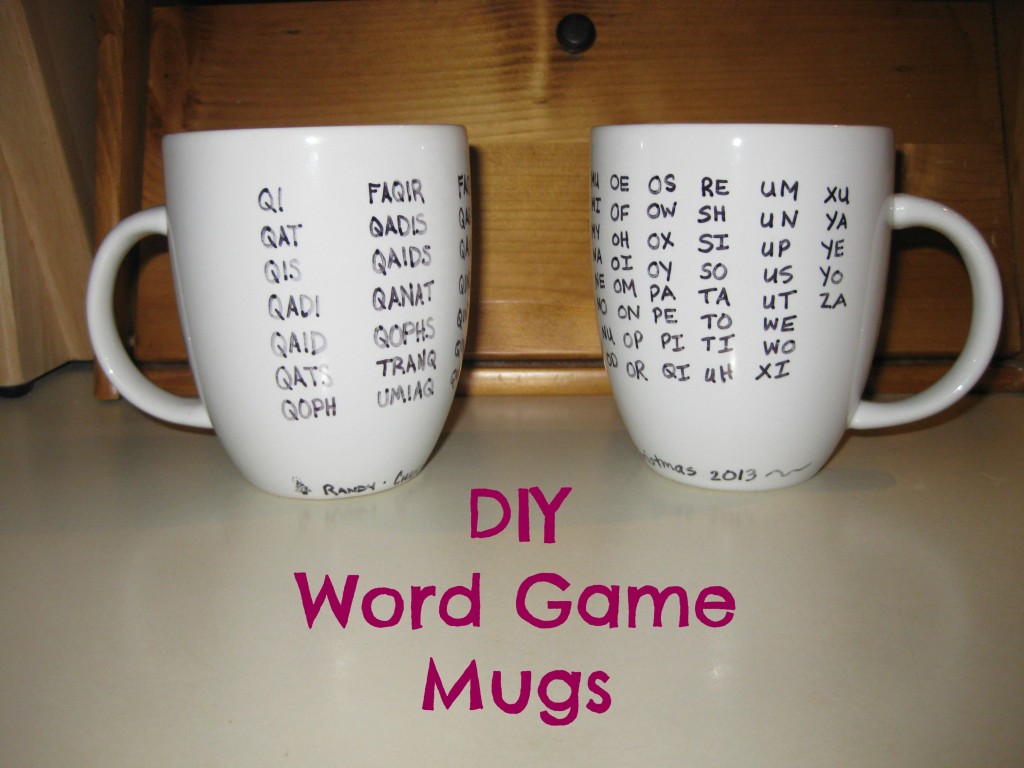 Do you know an avid Scrabble or Words With Friends player? Here is a fun gift for them. Or make one for yourself. It's a DIY word mug. These two mugs have "q without u words" and "2 letter words."
I purchased the white mugs at Target. I saw directions on a few different sites about how to best bake the mugs. Here's what I ended up doing:
1. Write the words on the mug with a Sharpie. I used a regular Sharpie, but I've heard that the "Sharpie Paint Pens" work even better than regular Sharpies. So feel free to experiment and see what works best for you.
2. Let the marker dry on the mug for 30 minutes (let dry for at least 3 hours if you used the paint pens)
3. Place the mug on a cookie sheet.
4. Put the cookie sheet into the cold oven (this allows the mugs to warm up with the oven and lessens the chance of cracking, I think).
5.  Bake at 400 degrees for about 40 minutes. Turn off the oven and let the mug cool with the oven.
6. Remove the cookie sheet/mug after the oven has mostly cooled.
Tips:
-When you're writing on the mug, make sure the marker is pointing down so the ink is flowing down. I think it helps get better results with regular Sharpies.
-I would probably hand wash most of the time, but I think they may hold up in the dishwasher (especially if you use the oil-based Sharpie paint pens).
-Scrabble accepts 101 Two-Letter words (those 101 are the ones I've included on this list):
aa, ab, ad, ae, ag, ah, ai, al, am, an, ar, as, at, aw, ax, ay, ba, be, bi, bo, by, de, do, ed, ef,
eh, el, em, en, er, es, et, ex, fa, fe, go, ha, he, hi, hm, ho, id, if, in, is, it, jo, ka, ki, la, li, lo,
ma, me, mi, mm, mo, mu, my, na, ne, no, nu, od, oe, of, oh, oi, om, on, op, or, os, ow, ox,
oy, pa, pe, pi, qi, re, sh, si, so, ta, to, ti, uh, um, un, up, us, ut, we, wo, xi, xu, ya, ye, yo, za
-Words with Friends accepts 105 Two-Letter words (the 101 Scrabble words plus da, di, fi, gi)
If you enjoy word game resources, I have a packet available in my TpT store, which highlights 2-letter words, q without a u words, and words without vowels. There are printable lists, definitions, and bookmarks included in this fun resource. Who knew an "ai" is a type of 3-toed sloth?
Best of luck with your mug making and word game playing!
~Carrie
Linked with: