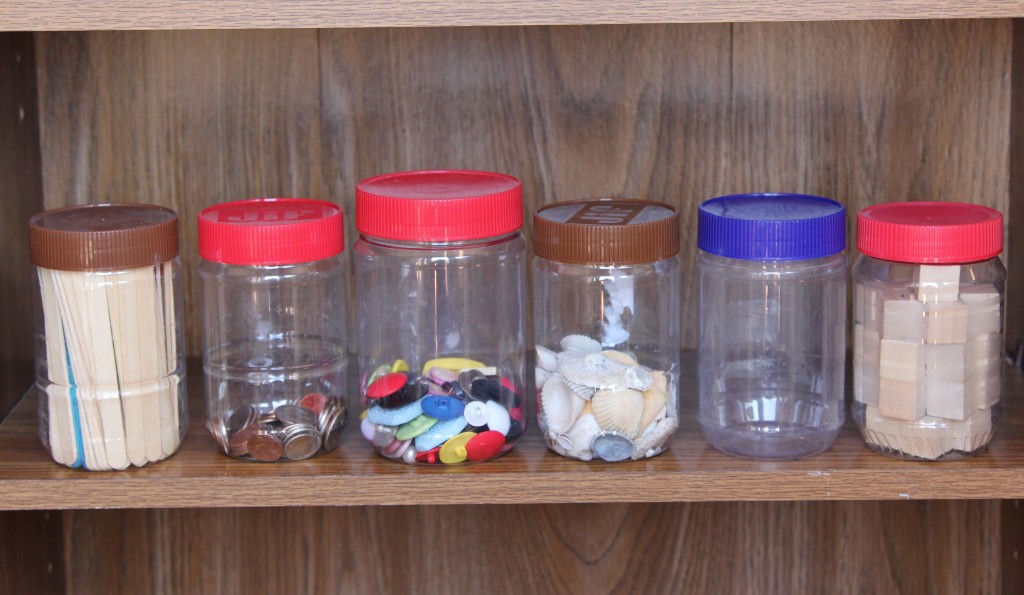 Peanut butter jars make fun storage! They're sturdy, see-through, and have colorful lids. Plus, they're free!
Back in the year 2000, when I was working with a great, organized teacher, Deb Bittle, she introduced me to the idea of reusing peanut butter jars in the classroom. Since then, I've continued to wash out and use these handy containers in a variety of ways:
store math manipulatives or office supplies in the classroom
store little things at home like Barbie shoes, shells, coins, craft supplies, etc.
put snacks in them when you're in the car
Get as much peanut butter out of the jar as possible. Remove the label. Then, wash in the dishwasher. If you're a teacher, send a parent note home asking for clean, empty peanut butter jars. I did this whenever I needed more for my classroom and the parents were great about sending them in. Just make sure they've been washed completely since severe nut allergies are common. Or ask your friends and family to save them for you. As for what to put in them, the possibilities are endless!
-Carrie
Follow My Book Boost on Facebook to hear about more organizing ideas in the future!
Linked With: